Cinema Music Composer,
Ken Soltys – Portfolio

How did you come in contact with Leesley Films?
I was led to begin to make contact with film producers who had a burden to produce film and media projects that would forward the Kingdom of God. I sent Jamison

a sample of work with the story that I am desiring to become more involved in the film production industry. He responded! Since that time, we just allow thoughts to flow and see what sounds manifest. What keeps me interested is the intensity, inspiration and motivation that Jamison and LF maintain to see the vision unfold!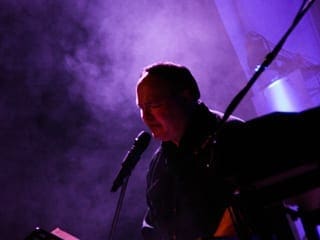 How important is the story of "Apparition" to you personally?
"Apparition" portrays the challenge to the Church and the world at large that, "We are in the earth but not of it, and the dimensions of the heaven realm is real with "great influence." This one point is a major key in my life's message.
What are the differences in the film, "Apparition" compared to other Christian films?
The first thing that comes to mind is that the movie just doesn't deal with an issue of life, it deals with the supernatural influences.

Hollywood has made a fortune using these influences and glorifying darkness. This work seems to focus on the overcoming of such forces.
How much time do you/have you devoted to the production of the movie?
I haven't really kept track. It is hard to say because there are times that a piece of music just comes together in the matter of several hours where another (for example) took months by trying different motifs, mixes, etc… until the piece spoke something!
What is/are your long-term goals in the Christian film industry?
My personal goal is to see the term "Christian Film Industry"

fade and that the production quality and industry as a whole become the mainstream. This is not something new. Up until the 1920's, it was the Church, the Body of Christ, that guided and formed popular music and stage productions. (Mozart, Beethoven, Handel, etc.). Even Hollywood's roots was grounded (in Texas prior to moving to California) in developing the visual media arts to spread and teach the Gospel. Hard to believe, but the media belongs to the Body of Christ and we (Kings and Priests unto our God – Rev.1:5, 5:10) can and need to take it back!
How was the atmosphere when you were on the set?
Believing I'll get the chance!
Enjoying the journey,
Ken Soltys
Ken's personal bio:
Ken began his formal studies of music at the age of 7 studying the trumpet, guitar, and piano. At the age of 15, he started his semi-professional career as a studio trumpeter in Long Island, New York.
He attended Northport High School and was trained in music theory, composition and Jazz Performance in the Performing Arts Department. In 1979,
Ken started his college studies in psychology, criminal justice and German at Baldwin-Wallace College. He kept up his musical studies with a concentration in trumpet performance in the world famous conservatory. BW College is located in a suburb of Cleveland, OH.
During his 4 years in the region, he started his professional career as a trumpeter playing for many off-broadway production companies and recording sessions. He returned to New York in 1983, after graduating with a Bachelor of Arts degree and playing a revue show in Las Vegas.
From 1983 to 1986, Ken's professional music career took off. He began to warm up Christian artists in concerts as an artist himself singing and playing keyboards. These artists included Twila Paris, Scott Wesley Brown, Margaret Becker, Michael Card, Brian Duncan, Wayne Watson and several others. As a trumpeter during these years, he played with artists such as James Brown, The Spinners, Gary U.S. Bonds and was the featured trumpeter with the Roland Parker Blues Band.
In 1986, he moved to Nashville and continued his professional career as a musician playing with artists like Larry Gatlin and the Gatlin Brothers and Lee Roy Parnell.
In 1990, he recorded his first of 15 CD's as an artist with Powerlife Records in Nashville, TN.
Ken has continued producing CD's of his own work and other artists since and has maintained a recording facility for this purpose. He's performed in more than 30 countries and his CD's have been heard and downloaded in more than 170 countries. Ken's Christmas CD "Silver Trumpet Christmas," had 2 major internet hits: "O Holy Night" reached #17 on the Internet Billboard Charts in December of 2000 and "Jingle Bells" reached #3 worldwide on the "MP3.COM" charts.
Ken continues to produce unique worship music that features his skills in composition, orchestration, arranging, improvisation and instrumental skills on the trumpet, flugelhorn, keyboards and vocals. His music is currently distributed on all major digital distribution online stores such as iTunes, Rhapsody, Amazonmp3, Napster and more.
Music written by Ken Soltys for Remlif Entertainment LTD. Arranged and recorded by Ken Soltys. Used by permission. All rights reserved.
*Push refresh if the YouTube video(s) don't show.
---
Multi Media Group International ↗